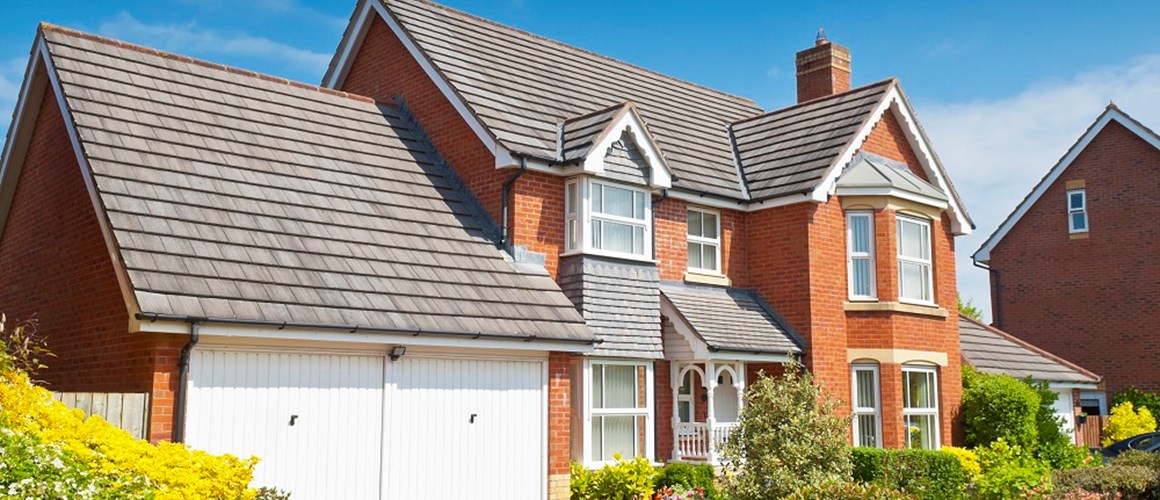 Summer 2023: UK Construction Sector Outlook
We've been looking into the current and upcoming challenges facing construction companies in the UK.
Key factors affecting directors, managers and owners of construction companies:
Labour shortages: The UK construction industry is facing a shortage of skilled workers such as carpenters, bricklayers and electricians etc. The smaller number of tradespeople and labourers has been exacerbated by the COVID-19 pandemic and restrictions on immigration into the UK due to Brexit. There are other factors surrounding this; including the aging workforce in the UK and fewer British-born adults now working in construction than what was seen in previous decades and generations.


Rising costs: The prices of building materials have gone up significantly due to various factors including COVID-19 backlogs, supply chain disruption, higher shipping costs and increased demand.


Along with higher workforce costs (for example: the UK's April 2023 increase to National Minimum Wage), the price of any given construction project in the UK is much higher than it would have been before 2020. These factors are already putting a strain on the finances of construction companies of all sizes and, in many cases, mean that they have lower levels of credit available when it comes to temporary contracted trades and labourers required for their projects.



Regulatory compliance: Construction firms in the UK need to comply with a range of regulations including health and safety, planning and environmental regulations. Keeping up with changes in regulations can be a challenge, especially for smaller firms with limited resources. 


Supply chain disruptions (harder/longer to get materials): Construction companies are facing issues with the availability of building materials due to factors including Brexit (international trade of goods) and global disruptions to supply chains caused by the COVID-19 pandemic.
A poll was conducted on the Optima Site Solutions LinkedIn Page in March 2023. The poll received almost 50 votes from industry experts, representatives of construction firms and tradespeople, the results are shown below.

What are the main challenges facing construction firms in the UK from April 2023 onward?
'Labour shortages' was the most popular answer with 45% of the votes
'Rising costs' received 41% of the votes
'Harder/longer to get materials' received 8%
'Regulatory/compliance tasks' received 6%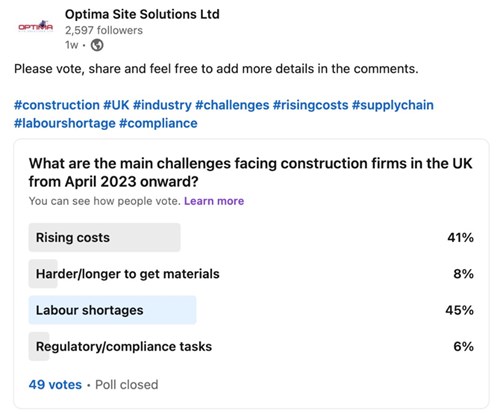 As a specialist recruitment agency for the construction sector, here are the main ways in which Optima helps its customers to overcome the key challenges they face


Labour shortages: with a growing database of more than 50,000 active, experienced and qualified members of the construction sector covering 100 job titles from labourers to machine operators to site managers and beyond; Optima guarantees to find the right person for the right job at the right time so that its clients don't need to worry about where they are going to source the skills required for their projects.

As one of the top recruitment agencies for construction in the UK, Optima has been running since 2002 and places up to and even beyond 1,000 operatives on its clients' sites each week. Through various channels, Optima is able to find the right candidate for even the most specialist construction job requirements, anywhere in mainland UK.



Rising costs: one of Optima's latest and most major innovations in the construction recruitment supply chain is its Margin Only payment model which allows construction firms of all sizes to get more from Optima's services. This payment model allows any and all of Optima's customers to pay contractors directly whilst Optima only invoices them for a small fee (a margin) on each of the hours delivered.

Margin Only payment is alleviating fiscal pressures on construction firms and allowing them to use their credit in other areas of their business. The Margin Only payment model allows construction firms who cannot use or who do not want to use agency staff on their projects to use Optima's services in finding them staff. After a pre-determined length of time, the customer can keep that staff member and we will stop invoicing them for hourly margin X hours worked each week.
Find out more about Optima's Margin Only payment model
Regulatory compliance: Optima always keeps up-to-date with employment laws and regulations from the UK government to maintain the utmost standard of compliance for all contractors and clients. The most recent example of this is Optima's response to the April 2023 increase in national minimum wage.

News articles on the following compliance topics can also be found in the Optima News Section: Settled Status, Contractor Compliance, IR35 & Right to Work ID Checks.

This foresight and proactiveness gives Optima customers the confidence of staying on the right side of the rules along with the convenience of having a highly established recruitment agency with expert directors and staff at their disposal.


In summary, there are some considerable challenges facing UK construction companies in this financial year and beyond but using a tip-top recruitment agency for temporary trades and labour, such as Optima Site Solutions, can help a construction firm of any size to overcome and succeed.

Contact us today using the form below to find out more!