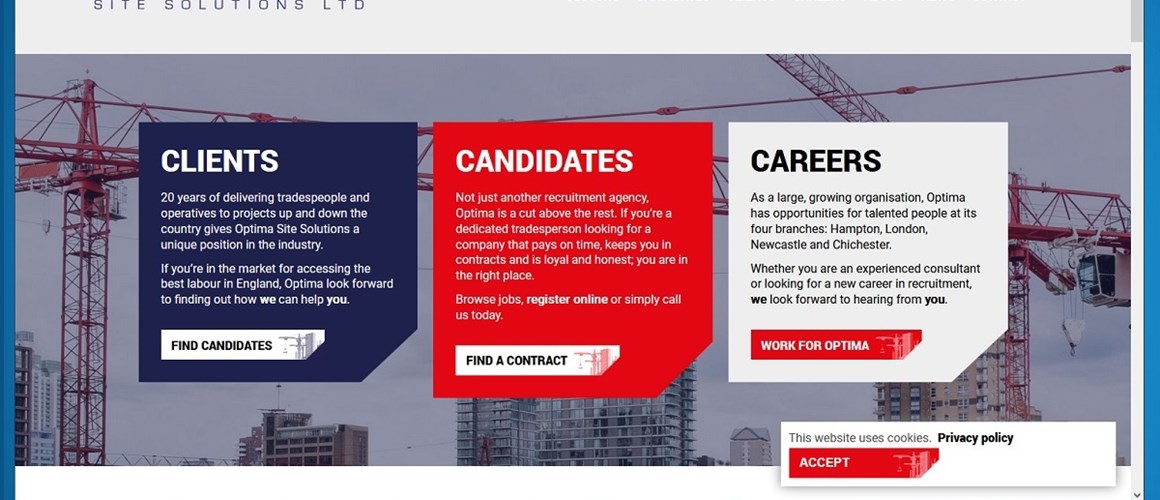 Brand New Website for Optima
A new website for construction recruitment.


As part of Optima's celebrations and strategy review upon its 20th anniversary as a recruitment company in the construction industry in the UK, the company has revamped its approach to marketing.


One of the major marketing projects in the first half of 2022 has been developing a brand-new, high-end website behind the scenes; the website you're looking at now!


The aim was to deliver a state-of-the-art web presence which welcomes members from three main audiences, helps them find relevant information about Optima and provides them with clear ways to get in touch. Recruitment agency websites straddle both B2B and B2C meaning that they must be carefully planned. Besides construction candidates/operatives and potential/existing clients, the third audience is talent who may wish to work for Optima itself.


The decision was made to put out a tender to web design and build agencies nearby to Optima's head office in Hampton, Middlesex. Having found an excellent local website company (Edgebound) and seen their design ideas for the website; it was time to go ahead and begin the task of creating an entirely new, market-leading website which integrates seamlessly with Optima's CRM.


The next stage of the marketing efforts will be to use various digital marketing channels along with traditional advertising and promotions in order to drive traffic to the new website and a steady flow of candidates and clients to maintain the growth of Optima Site Solutions.


Check back to this website on Wednesday, 29 June (2022) to see a surprise announcement! *Update* >> https://www.optimasitesolutions.com/about-us/20-years-of-optima/ 


Watch this space…